From the Perspective of Designer & Yogi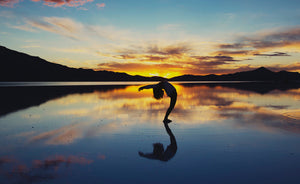 Hi, my name is Carly, the designer of Yogangstar's mats! I'm thrilled to be part of this project, merging my talent with my heart: design with yoga. A little bit about me: I lived in New York City as an Art Director for almost nine years before leaving it all to follow my heart, which told me to fly to Southeast Asia. After some travels through Bali and Malaysia, I discovered a Tantra Yoga school in Thailand, where I stayed for two years. I now live in Denmark, training to become a teacher of the same school, and I practice Hatha yoga everyday for three to six hours (so my yoga mat…matters). 
I've simplified my life a lot since leaving New York, but I still do appreciate some luxuries and finer things (the whole detachment thing is a work-in-progress!). When Matt (founder) introduced me to the Yogangstar mats, I was thrilled; first of all, these days I really only like to work on things that speak to my heart (yoga is one of them); second, Matt told me about the type of mats these would be: thick, plush, quality (not your average gym yoga mat), and my inner Queen was very pleased. 
My expectations (still working on letting those go too…namaste) were exceeded when I received the Goddess mat in the mail. She is even more gorgeous in person than on screen. It's one of my favorite designs, which features Lakshmi (Kamalatmika), the goddess of prosperity, wealth and good fortune. She's so beautiful, I never roll it up; it's on the floor of my room always now, like a work of art. And I love practicing with Her. The mat has this suede-like finish, so I don't need to use a towel anymore to feel comfortable. And the super thickness makes it perfect for asanas that could be painful (i.e. danurasana, where my hipbones usually dig into the floor). This is the mat for your home, your sanctuary, your practice room. It's not just a utilitarian object; it's like a piece of furniture or art. 
By the way, I would love to know which mat design is your favorite, and to see a picture of you with it!